Natasha Harris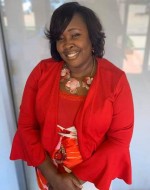 Natasha Harris is the Founder, Presenter & Executive Owner of Integrity Training & Professional Services. She earned an Associates Degree in Liberal Studies from National Park Community College in Hot Springs, AR and a Bachelors Degree in Business Management from Northwood University in Cedar Hill, TX. Natasha has also completed Master classes in Organizational Leadership from Devos University and Early Childhood Studies from Walden University. Her focus is Early Childhood Education, with a specialty for leadership/management/administrators in Childcare Centers.
In 2008, Natasha officially opened Integrity Training & Professional Services, which offers, Development Courses to business owners in every industry. She also provides Staff & Administrative trainings and specializes in Business startup, Leadership Development, Professional Administration, Effective Communication, Vision and Purpose planning & implementation, Ethics/Integrity and Professionalism in the Corporate setting and so much more.
Natasha has trained for various Workforce Solutions, private childcare centers and homes, Conference and Workshop Presenter, Foster Parent Associations and Head Start facilities and Associations. She has been a featured presenter, keynote and her trainings are very engaging, interactive and educational. She is also a Consultant for current childcare facilities and assist with Minimum Standard Education.
Natasha is a Child Care Health Consultant through TXAEYC (June 2017) and she has completed the Ages and Stages Trainer of Trainers Event hosted by TXAEYC and Healthy Childcare Texas (Dec 2018).
Natasha has always had a love and passion for administration, public speaking, training planning, coordination and education. Her goal as a Leadership Developer is to transform business leaders from being average to becoming the best in their industry. She is also passionate, as it concerns entrepreneurship and believes each person has a given talent or gift which can be converted into a successful, service-based business.
Natasha Harris' Conference Trainings
"Diversity in the Childcare" Children with Special Needs: ADD/ADHD/Autism & Sensory Processing Disorders

Childcare Today is becoming more diversified and it is essential for childcare providers to receive all the information and updates necessary to provide quality care for our children. The purpose of this training is to discuss ADD/ADHD and Autism/Asperger's and Sensory Processing Disorders signs and symptoms, classroom and schedule management, identification of symptoms and ways to teach to enhance child growth and development.
2 hours

Playground Safety and Active Supervision Training

Just how safe is your playground safety plan? How often do directors & owners follow up on the rules & regulations pertaining to outdoor play areas? Many times, we believe our centers/homes are compliant, when in reality, there are so many components lacking to ensure all children are safe & their outdoor play areas are free from harm. In this training, we will explore ways to ensure safety compliance at all times.
1 hour

Play…Play...and More Play…Children Learning through the Power of Play

How powerful is play to the growth and development of children? Play is effective in increasing the creative power in children and promoting healthy brain development. Essentially, it's beneficial for children to enhance developmental stages and incorporate play as one of the key components on their road of developmental discovery. In this training, we will discover how powerful play is and ways to increase opportunities for play in our daily educational programs.
2 hours