Dr. Magdalena Battles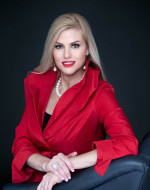 Dr. Magdalena Battles has a PhD in Psychology, a Master's Degree in Professional Counseling, and a Bachelor of Science Degree in Child Psychology. Her post graduate studies were completed at Harvard. She is a writer and conference speaker. Her specialties include parenting, child development, family relationships, domestic violence, and sexual assault. She shares her real life experiences and professional insights on her website Living Joy Daily and on LifeHack.org, where she was named one of their top 10 writers.
She and her husband reside in Texas where they are raising their three young children. Dr. Battles has two books on child development. One of them, The Importance of Play, was released September 2019.
She may seem all business, but in her spare time she enjoys camping with her family, visiting national parks, reading non-fiction, decorating, organizing (parties, closets, etc…), shopping, spending time with extended family, and incubating/raising Silkie chickens. She is an active volunteer in her community and church (Gateway Church) in Southlake, Texas.
Dr. Battles' Conference Trainings
Music and Movement

During this 2 hour training you'll learn the benefits of using music and movement in your classroom. We'll discuss specific tools to facilitate fun and educational music sessions like shaker eggs, ribbons, scarves, and another secret tool you'll have to come to see. You'll discover many songs, movements, exercises, and activities for use with these tools and create a lesson plan based on them. Finally, we'll discuss modifying these methods for use with babies, toddlers, and children with special needs. It'll be a blast!

Creating Positive Relationships with Parents

During this 1 hour training we'll discuss dealing with difficult parents. You'll learn how to handle a variety of different personality types including "My Child Can do no Wrong," "You're Supposed to Parent my Child," and "I can Teach Better than You!" We will also discuss tips on building cooperative partnerships between parents and teachers to help your rapport go from just ok to absolutely fabulous!

The Importance of Play

During this 2 hour training you'll learn why play is essential to a child's development, additional benefits children experience during play, the six stages of play from Parten's theory, and Marten's 16 types of play. With this information you'll be equipped to recognize and implement appropriate play activities calibrated for your children's age group. You'll also be prepared to teach parents the importance of their children's play and the important place it holds in their environment. The training will culminate in 20 inexpensive and easy ways to implement play activities. Oh, and it'll be hands-on. (Shhh! Don't tell anyone you'll be playing at the training conference!)

Toddler Tantrums

During this 1 hour training you'll learn ten practical tips for handling toddler tantrums. We'll discuss the best ways to pass this information along to parents so they can better handle tantrums at home, as well as how to distinguish tantrums from meltdowns caused by sensory issues, autism, or other factors. Reminder: your instructor will not be performing a tantrum demonstration.

Serve and Return - Effective Communication with Children

Dr. Battles attended a training at Harvard University hosted by their Center on the Developing Child educational department in the fall of 2019. This training helped Dr. Battles better understand the need for "serve and return" methods for use with preschool aged children. The information from Harvard will be presented and discussed. Participants will leave this session empowered to use the 5 steps in the serve and return method with their own students and children. Break out discussion time will be provided so that participants can share and learn more together.
2-hr Training

Classroom Manipulatives to Learn and Play

Classroom manipulatives make classroom learning hands on and fun! Manipulatives combine play and learning. Preschool classroom manipulatives will be discussed during this session. Participants will learn about some of the newest manipulatives, the educational benefits, and how children can use these classroom tools. Physical examples will be shown by the instructor. Options on economical ways for creating classroom manipulatives will also be covered, so that educators feel empowered to create these tools for their own classrooms or centers.

Early Childhood Mental Health

Early childhood mental health is a topic that every caregiver should have some basic understanding so they can best care for the children in their classroom or facility. This training will provide learners with information on childhood mental health and how toxic stress, neglect, biology, and environment affect a child's development. Participants will learn, discuss, and share methods of providing appropriate caregiver warmth and security to young children to support positive childhood mental health development. This training will be interactive and will provide valuable information that caregivers can utilize whether they are new to the field of work or have been in it over 20 years.